About Me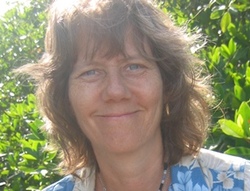 I grew up in a family where a lot of the communication I witnessed consisted of yelling. Although I knew I was loved, no one spoke to me much about what I wanted beyond
my basic survival needs, or what I might be interested in. I wound up with a lifelong desire to understand how to create more closeness and connection, and to be able to communicate more honestly and easily.

In college I majored in animal behavior because I was always fascinated with observing and understanding how living beings respond to one another and their environment. Later at Cornell, while earning a Masters in Education, I came to understand more deeply some of the conditions and practices that support people in gaining understanding and learning new skills. Previously I had read communication books on my own, but while at Cornell I studied communication skills more formally, and as a teaching assistant, I taught communication skills to aspiring teachers.

As a parent, I homeschooled my son and daughter and spent my days with young people who had a lot of feelings and desires to express. I got a lot of practice identifying, acknowledging, and trying to balance all of our feelings and needs, and developing my skills in conflict resolution.

Wanting to develop more skill and help others resolve their conflicts, I formally trained as a mediator with the Community Dispute Resolution Center in 2005. My ability to stay relaxed and present while witnessing the range of intense human feelings grew quickly, and I learned to focus on the human needs that lay underneath strong emotions. I loved learning skills that help me support people to become clearer about what they want, to express themselves more honestly, to hear each other more fully, and to creatively develop solutions that all parties could agree to.

In 2006 when I discovered Nonviolent Communication (NVC), aka Compassionate Communication, I began learning how to help individuals create more supportive and authentic relationships. I also began learning how to help organizations reduce conflict, improve individual and team productivity, and have more effective meetings. In 2008 I was accepted into a yearlong NVC parent leadership training, and have since attended hundreds of additional hours of advanced training on topics including: providing effective feedback, advanced mediation, encouraging compassion, handling challenging conversations, creating high functioning groups, convergent facilitation (making efficient and collaborative group decisions), needs consciousness, making effective requests, and teacher training. In my current work I support individuals, couples, families, and organizations in learning and practicing these powerful skills that enrich their interactions, relationships, and daily lives.

I thoroughly enjoy sharing the tools and benefits of this powerful and supportive process!

---